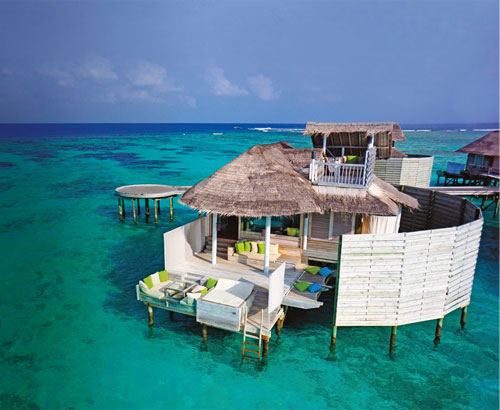 03 Nights/ 04 days free and Easy Maldives
---
Arrive Lucerne & check in at hotel. Evening at leisure. Stroll around the lovely city of Lucerne. The old Town, Wooden Chapel Bridge, Lion Monument, the Swiss Transport Museum, the new IMAX Theatre are the highlights which are a must visit.
Request for query
---
The Maldives is a tropical nation in the Indian Ocean composed of 26 coral atolls, which are made up of hundreds of islands. It's known for its beaches, blue lagoons and extensive reefs. The capital, Malé, has a busy fish market, restaurants and shops on Majeedhee Magu and 17th-century Hukuru Miskiy (also known as Old Friday Mosque) made of coral stone.
Celebrate your special honeymoon in Maldives at the most beautiful and romantic islands of Maldives. You could enjoy the privacy and intimacy of a secluded, natural setting and a warm inviting atmosphere, where the sunsets are spectacular! The Maldives resorts offer you not only the crystal clear waters and azure blue lagoons, food is tasty and services are excellent. As a welcome token, almost all Maldives resorts offers honeymooners fruit plates and flower decorated rooms on the arrival night - a romantic promise of what lays ahead.
On request, resorts also arrange romantic candle-lit dinners on the beach and also champagne breakfast served in the privacy of your own room, to make your honeymoon holiday memories that will last a lifetime!
Quick Facts About Maldives
Capital: Malé
Dialing code: +960
Currency: Maldivian rufiyaa
President: Abdulla Yameen
Continent: Asia
Location : Southwest of Sri Lanka, on the equator.
Geography: 1,190 coral islands, forming an archipelago of 26 major atolls. Stretches 820 kilometres north to south and 120 kilometres east to west. 202 are inhabited, 87 are exclusive resort islands. Climate: Generally warm and humid. Sun shines all year through. Average temperature around 29 - 32 degrees Celsius.
What to wear: Dress is generally casual. T-shirts and cotton clothing are most suitable. In Male', the capital island and other inhabited islands it is recommended that women wear modest clothing without baring too much.
Population: About 270,000 according to 1998 estimates. Origin of the Maldivians are lost in antiquity, but history reveals that the islands have been populated for over 3,000 years ago. Early settlers were travellers on the Silk Route and from the Indus Valley Civilisation. Inherently warm, friendly and hospitable by nature, it is easy to feel comfortable and relaxed with a Maldivian.
Language: Dhivehi is the language spoken in all parts of the Maldives. English is widely spoken by Maldivians and visitors can easily make themselves understood getting around the capital island. In the resorts, a variety of languages are spoken by the staff including English, German, French, Italian and Japanese.
Currency: The Maldivian currency is the Rufiyaa and Laaree. The exchange rate for US Dollar at the time of writing is MRf.11.82 for the dollar. One Rufiyaa is equivalent to 100 laarees. Rufiyaa bank notes come in denominations of 5, 10, 20, 50, 100 and 500. Coins are in the denominations of MRf.2.00, MRf.1.00, 50 laarees, 20, 10, 5, 2 and 1 laaree. The US Dollar is the most commonly used foreign currency. Payments in the resorts and hotels can be made in most hard currency in cash, travellers' cheques or credit cards. Commonly used credit cards are American Express, Visa, Master Card, Diners Club, JCB and Euro Card.
Local Time: GMT + 5 hours
Business Hours: From Sunday to Thursday 7.30 - 14.30 in the government sector and generally from 9.00 to 5.00 in the private sector, although most offices in the private sector open for a half day on Saturday. Weekend falls on Friday and Saturday.
Communication: Up-to- date technology and international satellite links allow Maldives to have a sophisticated communications system. IDD facilities are available on all resorts and card phones are available on all inhabited islands. Dhiraagu, the Maldives Telecommunications Company also provides mobile telephones for daily rental. It is also the Internet service provider.
Electricity : The electric system is 230-240 Volts -AC
Day 01 : Arrive Maldives
Arrive Maldives - Sun, sand and sea, a thousand 'Robinson Crusoe' islands, massive lagoons with different depths and infinite shades of blue and turquoise, dazzling underwater coral gardens; a perfect natural combination for the ideal tropical holiday destination. On arrival, you will be transferred to your resort by water taxi /Speedboat / Sea Plane. Overnight at your resort.
Day 02: Maldives
Enjoy breakfast. The day is free to explore your island on your own. Go swimming, scuba diving, snorkeling, fishing, and day at leisure. Overnight at your resort hotel.
Day 03: Maldives
Enjoy breakfast. Day free to relax on the white sandy beach or you can enjoy a luxurious massage. Overnight at your resort hotel.
Day 04 : Departure Day
After a breakfast, depart for airport by water taxi / speedboat / sea plane for your flight back home / onward destination.
Inclusions:
03 nights accommodation in Male
03 breakfast at the hotel
Arrival transfer from Airport - Hotel - Airport - Sea Plane / Speed Boat
Exclusions:
Pre-registration or late check-out of rooms.
Any item of personal nature like porterage & tips, laundry, telephone calls, beverages, mineral water etc.
Any services or meal other than the ones mentioned above.
Any other expense/changes due to unforeseen circumstances while in country.
Any other thing not mentioned in program or 'cost includes'.
Terms and Conditions
The above offer is subject to RBI/GOI Regulations.
The above offer including Hotels, Itinerary, sightseeing subject to change without prior notice.
Early check in is subject to availability.
Surcharge for Hotel during New Year/ Festive season/Conventions/High Occupancy may apply accordingly upon hotel's advice at time of booking made.