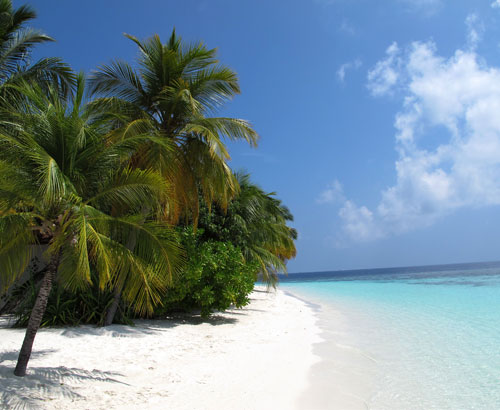 05 Nights / 06 Days Delighted Maldives & Sri Lanka
---
Arrive Lucerne & check in at hotel. Evening at leisure. Stroll around the lovely city of Lucerne. The old Town, Wooden Chapel Bridge, Lion Monument, the Swiss Transport Museum, the new IMAX Theatre are the highlights which are a must visit.
Request for query
---
The Maldives is a tropical nation in the Indian Ocean composed of 26 coral atolls, which are made up of hundreds of islands. It's known for its beaches, blue lagoons and extensive reefs. The capital, Malé, has a busy fish market, restaurants and shops on Majeedhee Magu and 17th-century Hukuru Miskiy (also known as Old Friday Mosque) made of coral stone.
Celebrate your special honeymoon in Maldives at the most beautiful and romantic islands of Maldives. You could enjoy the privacy and intimacy of a secluded, natural setting and a warm inviting atmosphere, where the sunsets are spectacular! The Maldives resorts offer you not only the crystal clear waters and azure blue lagoons, food is tasty and services are excellent. As a welcome token, almost all Maldives resorts offers honeymooners fruit plates and flower decorated rooms on the arrival night - a romantic promise of what lays ahead.
On request, resorts also arrange romantic candle-lit dinners on the beach and also champagne breakfast served in the privacy of your own room, to make your honeymoon holiday memories that will last a lifetime!
Quick Facts About Maldives
Capital: Malé
Dialing code: +960
Currency: Maldivian rufiyaa
President: Abdulla Yameen
Continent: Asia
Location : Southwest of Sri Lanka, on the equator.
Geography: 1,190 coral islands, forming an archipelago of 26 major atolls. Stretches 820 kilometres north to south and 120 kilometres east to west. 202 are inhabited, 87 are exclusive resort islands. Climate: Generally warm and humid. Sun shines all year through. Average temperature around 29 - 32 degrees Celsius.
What to wear: Dress is generally casual. T-shirts and cotton clothing are most suitable. In Male', the capital island and other inhabited islands it is recommended that women wear modest clothing without baring too much.
Population: About 270,000 according to 1998 estimates. Origin of the Maldivians are lost in antiquity, but history reveals that the islands have been populated for over 3,000 years ago. Early settlers were travellers on the Silk Route and from the Indus Valley Civilisation. Inherently warm, friendly and hospitable by nature, it is easy to feel comfortable and relaxed with a Maldivian.
Language: Dhivehi is the language spoken in all parts of the Maldives. English is widely spoken by Maldivians and visitors can easily make themselves understood getting around the capital island. In the resorts, a variety of languages are spoken by the staff including English, German, French, Italian and Japanese.
Currency: The Maldivian currency is the Rufiyaa and Laaree. The exchange rate for US Dollar at the time of writing is MRf.11.82 for the dollar. One Rufiyaa is equivalent to 100 laarees. Rufiyaa bank notes come in denominations of 5, 10, 20, 50, 100 and 500. Coins are in the denominations of MRf.2.00, MRf.1.00, 50 laarees, 20, 10, 5, 2 and 1 laaree. The US Dollar is the most commonly used foreign currency. Payments in the resorts and hotels can be made in most hard currency in cash, travellers' cheques or credit cards. Commonly used credit cards are American Express, Visa, Master Card, Diners Club, JCB and Euro Card.
Local Time: GMT + 5 hours
Business Hours: From Sunday to Thursday 7.30 - 14.30 in the government sector and generally from 9.00 to 5.00 in the private sector, although most offices in the private sector open for a half day on Saturday. Weekend falls on Friday and Saturday.
Communication: Up-to- date technology and international satellite links allow Maldives to have a sophisticated communications system. IDD facilities are available on all resorts and card phones are available on all inhabited islands. Dhiraagu, the Maldives Telecommunications Company also provides mobile telephones for daily rental. It is also the Internet service provider.
Electricity : The electric system is 230-240 Volts -AC
Destinations Covered : Kandy, Colombo, Maldives
Day 01: Colombo - Kandy
On your arrival at Bandaranaike International Airport Colombo, our local representative will meet you and transfer you to Kandy (116 Kms from Colombo, which is about 2 hrs drive). Where you will visit the Royal Botanical Gardens in Peradeniya. The Royal Botanical Gardens were first built as a pleasure garden by a Sinhala king and was expanded by the British. The garden spreads over a vast area of 147 acres which has an amazing variety of trees, plants and flowers. After the Botanical Gardens, do a city tour of Kandy. Kandy was the last capital of the Sri Lankan kings and is a World Heritage Site. The name "Kandy" conjures visions of splendor and magnificence. Many of the legends, traditions and folklore are still lovingly kept alive. Drive around the Kandy Lake built by the last Sinhala king, Sri Wickrama Rajasinghe in 1798. Visit the Kandy town and bazaar, the arts and crafts centre, a gem museum and a lapidary. Also visit the Temple of the Tooth Relic in Kandy. Thereafter witness a cultural show. Overnight stay in Kandy.
Day 02: Kandy - Colombo
After breakfast, transfer from Kandy to Colombo via Pinnawela.The Pinnawela Elephant Orphanage was established in 1975, commenced with seven orphans. Today some of these orphans enjoy the fortune of seeing their grand children born in the same location. The original objective of establishing the orphanage inclined more towards tourism, but is soon became a conservation and educational centre. With the help of local and foreign elephant experts, Pinnawela started a scientific captive-breeding programme for elephants. The free movement of the herd enhanced the chances for respective individuals of both sexes to get together and mate. The nearby river played a dominant role in this regard, and in 1984, the first baby of Pinnawela was born. The success story of Pinnawela has drawn the attention of scientists from all over the world. A considerable number of books and research articles on
Pinnawela have been published in several languages. The members of the Pinnawela herd have been filmed, videoed and photographed thousands of times by professionals. After reaching Colombo, you will go for Morning city & shopping tour of Colombo, where like many other capital cities in developing countries, you will see that Colombo is also fast changing its face. Almost overnight, skyscrapers arise from where old buildings once stood. Yet in some parts, the old world charm is retained with several British built colonial buildings. Other places of interest are a Hindu and a Buddhist temple, residential areas where you find the stately homes of the affluent, the Bandaranaike Memorial International Conference Hall and the old parliament. Also visit House of Fashions, ODEL, Noritake ceramic shop & a local souvenir shop. Evening free at leisure. Overnight stay in Colombo.
Day 03: Colombo - Maldives
After breakfast check out from hotel and take a transfers to Colombo airport for your onward flight to Maldives. On arrival at the Maldives international airport, you will be met and transferred by our local representative to your hotel by speedboat. Check in at the Resort and spend the rest of the day at leisure. Unspoilt palm - fringed tropical islands with white beaches, turquoise lagoons, fantastic coral reefs and marine life are only part of the appeal of the Maldives. It is a remote and historically fascinating string of low lying coral islands in the Indian Ocean, a paradise for water sports enthusiasts and sun seekers alike. Overnight at hotel.
Day 04: Maldives
This morning after breakfast, move out to explore the beautiful island beach resort. Maldives is a paradise for adventures and sports lovers. Go for water skiing, jet skiing, windsurfing, water surfing, snorkeling, sailing and parasailing or enjoy beach volleyball and basket ball. OR why not take our optional tours. Enjoy an island Hopping tour or choose from a morning line-fishing excursion, big game fishing in a speed boat or a night fishing trip, finishing up with a barbeque at the resort to enjoy the catch of the day. Later in the evening return back to the resort for an overnight stay.
Day 05: Maldives
This morning after breakfast, take a optional tour and wander around Males National museum, located in Sultan's park, which possesses a superb collection of artefacts, including Sultanese thrones and palanquins. Another sight worthy to see is the beautiful century Hukuru - Friday Mosque, the Islamic center topped with a magnificent golden globe. Enjoy browsing through the fish and local markets. Later in the evening return back to the resort for an overnight stay.
Day 06: Return
After Breakfast transfer to Airport to connect the departure flight to India.
Inclusions:
3 nights' stay in Maldives
1 night's stay at Kandy
1 night's stay at Colombo
Breakfast
Daily Lunch (only at Embudu Village)
Daily Dinners in Maldives Only
Return Airport transfer in Colombo
Return Airport transfer by speed boat in Maldives
City tour of Kandy
Visit the Royal Botanical Gardens in Peradeniya
The Pinnawela Elephant Orphanage
Cultural show at Kandy
Exclusions:
International Airfare
Entrances at Sri Lanka
Travel insurance
Visa on arrival
Government service tax
Any Other services not mentioned above