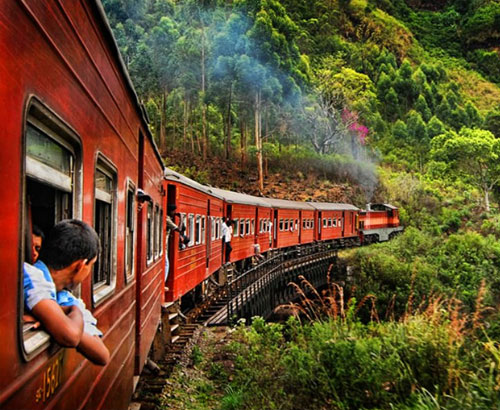 3 NIGHTS / 04 DAYS SRI LANKA TOUR - KANDY, COLOMBO & GOLDEN BEACHES ( Kandy, Kalutara / Bentota / Ahungalla, Colombo)
---
Set in the Indian Ocean in South Asia, the tropical island nation of Sri Lanka has a history dating back to the birth of time. It is a place where the original soul of Buddhism still flourishes and where nature's beauty remains abundant and unspoilt.
Request for query
---
Set in the Indian Ocean in South Asia, the tropical island nation of Sri Lanka has a history dating back to the birth of time. It is a place where the original soul of Buddhism still flourishes and where nature's beauty remains abundant and unspoilt. Few places in the world can offer the traveller such a remarkable combination of stunning landscapes, pristine beaches, captivating cultural heritage and unique experiences within such a compact location. Within a mere area of 65,610 kilometres lie 8 UNESCO World Heritage Sites, 1,330 kilometres of coastline - much of it pristine beach - 15 national parks showcasing an abundance of wildlife, nearly 500,000 acres of lush tea estates, 250 acres of botanical gardens, 350 waterfalls, 25,000 water bodies, to a culture that extends back to over 2,500 years. This is an island of magical proportions, once known as Serendib, Taprobane, the Pearl of the Indian Ocean, and Ceylon. Discover refreshingly Sri Lanka!
FACTS & FIGURES:
Official Name: Democratic Socialist Republic of Sri Lanka
Dimensions: 430km North to South, 225km East to West
Coastline: 1,340km
Area: 65,525km
Currency (code): Sri Lankan Rupee (LKR)
Commercial Capital: Colombo
Climate: Sri Lanka is a round-the-year destination for the visitors who seek for sun and sea the best time to visit the island is from November to April. The Southwestern coastal area, where the most of the beach resorts are located. The central highlands are pleasantly cool and relatively dry from January to April. The peak season is mid December to mid January and March-April during Easter with a mini peak season in July and August when festivals and pageants are held through the country.
Population: 21,128,773
Languages: Sinhala (official and national language) 74%, Tamil (national language) 18%, other 8%
Note: English (a link language commonly) is used in government and spoken competently by about 10% of the population
Religion: Buddhist 69.1%, Muslim 7.6%, Hindu 7.1%, Christian 6.2%, unspecified 10% (2001 census)
International Dialing: +94
DAY 01: ARRIVAL KANDY
Arrival and transfer to Kandy.
Afternoon - Do a city tour of Kandy. Kandy: Kandy was the last capital of the Sri Lankan kings and is a World Heritage Site. The name Kandy conjures visions of splendour and magnificence. Many of the legends, traditions and folklore are still lovingly kept alive. Drive around the Kandy Lake built by the last Sinhala king, Sri Wickrama Rajasinghe in 1798. Visit the Kandy town and bazaar, the arts and crafts centre, a gem museum and a lapidary. Also visit the Temple of the Tooth Relic in Kandy. Thereafter witness a cultural show. Overnight stay in Kandy.
DAY 02: PERADENIYA
Breakfast at the Hotel. Transfer to Peradeniya & visit the Royal Botanical Garden. Royal botanical garden: This botanical garden was first built as a pleasure garden by a Sinhala king and was expanded by the British. It is 147 acres in extent and provides an amazing variety of trees, plants and flowers. Thereafter proceed to Kalutara / Bentota / Ahungalla via Pinnawala.
The Pinnawela Elephant Orphanage, established in 1975, commenced with seven orphans. Today some of these orphans enjoy the fortune of seeing their grandchildren born in the same location. The original objective of establishing the orphanage inclined more towards tourism, but is soon became a conservation and educational centre. With the help of local and foreign elephant experts, Pinnawela started a scientific captive-breeding programme for elephants. The free movement of the herd enhanced the chances for respective individuals of both sexes to get together and mate. The nearby river played a dominant role in this regard, and in 1984, the first baby of Pinnawela was born.
The success story of Pinnawela has drawn the attention of scientists from all over the world. A considerable number of books and research articles on Pinnawela have been published in several languages. The members of the Pinnawela herd have been filmed, videoed and photographed thousands of times by professionals.
Overnight stay in Kalutara / Bentota / Ahungalla.
DAY 03: COLOMBO
Breakfast at the Hotel. Morning city & shopping tour of Colombo. Colombo, like many capital cities in developing countries is fast changing its face. Almost overnight, skyscrapers arise from where old buildings once stood. Yet in some parts, the old world charm is retained with several British built colonial buildings. Other places of interest are a Hindu and a Buddhist temple, residential areas where you find the stately homes of the affluent, the Bandaranaike Memorial International Conference Hall (BMICH)- an outright gift to Sri Lanka from the People's Republic of China & the old parliament.
Also visit House of Fashions, ODEL, Noritake ceramic shop & a local souvenir shop. Afternoon at leisure. Overnight stay in Colombo.
DAY 04: DEPARTURE
After Breakfast transfer to Airport for departure.
INCLUSIONS:
- Accommodation in standard room on bed & breakfast basis for 3 nights
- Transportation by air-conditioned vehicle as per programme
- Services of an English Speaking Chauffeur Guide for groups up to 6 pax.
- Professionally qualified English speaking national guide will accompany groups above 7 pax.
EXCLUSIONS:
- International Air fare
- Visa Charges
- Video and Camera permits
- Lunch & dinner throughout the tour
- Any entrance fees and cost of boat
- Expenses of a personal nature
- Any other services not specified above
- Boat Ride
- GST