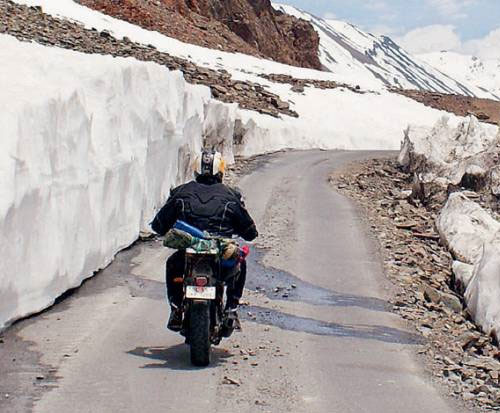 KASHMIR AND LADAKH BIKE TOUR 10 nights / 11 days
---
Jammu and Kashmir is a state in northern India, often denoted by the acronym J&K. It is located mostly in the Himalayan mountains, and shares borders with the states of Himachal Pradesh and Punjab to the south.
Request for query
---
JAMMU & KASHMIR
Jammu and Kashmir is a state in northern India, often denoted by the acronym J&K. It is located mostly in the Himalayan mountains, and shares borders with the states of Himachal Pradesh and Punjab to the south.
Set like a jewelled crown on the map of India, Kashmir is a multi-faceted diamond, changing its hues with the seasons - always extravagantly beautiful. Two major Himalayan ranges, the Great Himalayan Range and the Pir Panjal, surround the landscape from the north and south respectively. They are the source of great rivers, which flow down into the valleys, forested with orchards and decorated by lily-laden lakes.
The Mughals aptly called Kashmir 'Paradise on Earth' where they journeyed across the hot plains of India, to the valley's cool environs in summer. Here they laid, with great love and care, Srinagar's many formal, waterfront gardens, now collectively known as the Mughal Gardens. They also patronized the development of art & craft among the people of Kashmir, leaving behind a heritage of exquisite artisanship among these people and making the handicrafts of the land prized gifts all over the world.
Kashmir is a land where myriad holiday ideas are realised. In winter, when snow carpets the mountains, there is skiing, tobogganing, sledge-riding, etc. along the gentle slopes. In spring and summer, the honey-dewed orchards, rippling lakes and blue skies beckon every soul to sample the many delights the mountains and valleys have to offer. Golfing at 2,700 m above the sea, water-skiing in the lakes and angling for prized rainbow trout, or simply drifting down the willow fringed alleys of lakes in shikaras and living in gorgeous houseboats are some of the most favoured ones.
Regions: The state consists of three regions:
Jammu,
Kashmir Valley and
Ladakh.
Jammu is situated on a Shivalik hillock with the river Tawi flowing by at the foot of the hill. The mountain ranges and valleys of Kashmir are a rare beauty. Buddhist Culture is widespread in Ladakh and it also known as "Little Tibet".
Name: The name Srinagar means the "City of Lakshmi, the Goddess of Wealth". It was founded by Ashoka the Great. The present city of Srinagar was built by Pravarsena II adjoining the old city.
Existence: Jammu is said to have been founded by Raja Jambu Lochan some 3000 years back. Capital: Jammu is the Winter Capital of the state whereas Srinagar is the Summer Capital of it. Srinagar is the Largest City of the State Jammu and Kashmir.
Boundary: Jammu and Kashmir has an International Border with China and also Line of Control (LOC) separates Jammu and Kashmir from Pakistan.
Population: As per Census 2011, the total population of this state is 12,548,926. Population wise, it holds 18 th position.
Land Area: Its land area is 222,236 sq. km. Land Area wise, it holds 6 th rank.
Language: Its Official languages are Kashmiri and Hindi. But there are several other languages which peoples of Jammu and Kashmir like to speak are Dogri, Urdu, English and Ladakhi.
Literacy: Its literacy ratio is 66.7%.
Districts: There are 22 districts present in this state.
Climate: Jammu City is hot in during summer and the temperature reaches up to 40 degree Celsius. The Ladakh region is very cold.
Connectivity: Jammu and Kashmir is well connected with railways, roadways and airways.
Places of Interest: Raghunath Temple is the heart of the city Jammu. Jammu is especially famous for its exquisite Pahari School of Miniature Paintings.
Best Time: The Best times to visit this state are April to October and December to January.
Day 01 Arrive Srinagar Airport
On arrival Srinagar meet for assistance and transfer to Houseboat or hotel. Afternoon cruise ride by Shikara for two hours - a Typical Kashmiri gondola – thru the watery vegetable Gardens / markets and see the mountains mirrored in the lakes. You will get a view of some very interesting places around the Lake. In the evening return to Deluxe Houseboat/Hotel for overnight
Day 02 Srinagar Sonamarg Kargil
After early breakfast leave from Srinagar for Kargil, the drive to Sonamarg is another spectacular facet of country side in Kashmir in Sindh Valley. The Indus Valley is the largest tributary of the valley of Kashmir. Drive through the panoramic and scenic sites, Sonamarg (2740 Mtrs). Zojila pass 3527 Mtrs (Gateway of Ladakh). Continue drive towards Drass (The second coldest inhibited place in the world) and by evening reach Kargil (2710 Mtrs) which has got its importance after opening the Ladakh for tourists in 1974. Later check in for overnight.
Day 03 Kargil to Uletokpo
After early Breakfast leave for Uletokpo and en-route visiting the monastery of Mulbeck, Lamayuru & Moon-landscape passing through Namkila & Fatula Passes (4100 Mtrs) the highest pass on Srinagar- Leh road and proceed to Uletokpo. Overnight stay at the camp
Day 04: Uletokpo - Indus Valley & Alchi- Leh
After breakfast visit of 1000 year old Alchi monastery the only Gompa in Ladakh region on flat ground continue to the Likir Monastery visit the three stories Dharma Wheel Gompa. Here you'll be awestruck with the sight of the massive Buddha statues. Drive through Indus & Zanskar River and visiting, Pathar Sahib Gurdwara, Basgo Palace, Overnight stay at the Hotel.
Day 05: Tour of Hemis, Thiksey Shey monastery
After a leisurely breakfast ride to visit Hemis Monastery situated 45 Kms west of Leh; Hemis is the largest monastery in Ladakh. On way back visit Thiksey Gompa or Thiksey Monastery (also transliterated from Ladakhi as Tikse, Thiksey or Thiksey) is a Gompa (monastery) affiliated with the Gelug sect of Tibetan Buddhism. It is located on top of a hill in Thiksey village, approximately 19 kilometers east of Leh in Ladakh, It is noted for its resemblance to the Potala Palace in Lhasa, Tibet and is the largest Gompa in central Ladakh, notably containing a separate set of buildings for female enunciates that has been the source of significant recent building and reorganization. Proceed and visit Shey Palace the former summer palace. Overnight stay at the hotel
Day 06: Tour of Khardungla Pass 18380 Ft. Nubra Valley and Hunder Sand Dunes
After early breakfast ride to Nubra valley the 120 Kms approximately 4 to 5 hrs. Via Khardungla (18380 ft.), Highest Motor able road in the World) on arrive explore Diskit, Hunder Villages and camel Safari in Sand Dunes. Overnight stay at the camp at Hunder
Day 07: Visit Diskit monastery which is 515 years old & Drive Leh
After Breakfast visit Diskit Monastery and ride back to Leh crossing Khardungla Pass., on arrival check-in hotel and afternoon at leisure for shopping etc. Overnight
Day 08: Tour of Pangong Lake- It is the highest land locked lake
After early Breakfast leave for Pangong Lake (14,500 ft.), ride through Changla Pass 17,350 ft., it is the third highest motor able road in the world. Arrive at Pangong Lake it is the highest salt water Lake in the World, shared by two countries India & China. Enjoy the beauty of the lake on the Banks of Pangong Lake with multi-color reflections and fascinating high altitude of the Lake. Overnight stay at camp
Day 09: Ride back to Leh, evening Leh Palace & Shanti Stupa
After breakfast, ride back to Leh, Late Afternoon visit Leh Palace & Shanti Stupa, Later in the evening walk around Local Market. Overnight stay at the hotel
Day 10: Drive back to Srinagar
After breakfast, ride back to Srinagar, Overnight stay at the hotel.
Day 11: Depart Srinagar
After breakfast, transfer to airport for your onward flight back home.
COMMON INCLUSIONS OF ABOVE PACKAGES:
Accommodation at the above mentioned Hotels /Houseboat basis of sharing Double room (2 Pax in a Room), single room supplement on request
Assistance on arrival and departure at airports/station
Transfers and sightseeing as per programme by A/c vehicle INNOVA/TAVERA/XYLO/ETIOS/INDICA/WINGER/Tempo Traveller.
The Above Packages Does Not Include:
Flights, Drinks, Meals other than mentioned,
Tips, Monuments fee,
Gondola Cable Car tickets at Gulmarg,
Pony Rides,
Visits in Pahalgam and Sonamarg if desired to visit Chandanwari & Betab, Aru valley in Pahalgam and Thajwas glacier, fish point in Sonamarg (need to pay directly to local vehicles) ,
Traveling Insurance, Medical facilities and any other services not mentioned in programme.
HELICOPTER TICKETS
4.50% GST extra
PACKAGE INCLUDES FOR BIKE RIDE USE:
350cc Royal Enfield's for riders, tour leader and tour guide
Backup pickup Tempo or Bolero pickup and mechanic
First aid kit and oxygen cylinder & Helmets
Bikes will be provided in Leh.
2 nights in Srinagar at Deluxe Houseboat/Hotel, Half Board MAP
1 Night in Kargil at Hotel, Half Board MAP
1 Night in Uletokpo at camp, Full Board AP
4 Nights in Leh at Hotel, Half Board MAP
1 Night in Hunder at camp. Full Board AP
1 Night in Pangong at camp, Full Board AP
1 Hour Shikara ride at Dal lake Srinagar.
Arrival and departure transfers.
The Above Packages Does Not Include:
# Flights, Drinks, Fuel for bikes, Gloves, Jackets, boots, strap. Medical Insurance Medical facilities, meals other than mentioned, Gratuities and any other services not mentioned in inclusion